Faithful Learning & Living at Rosslyn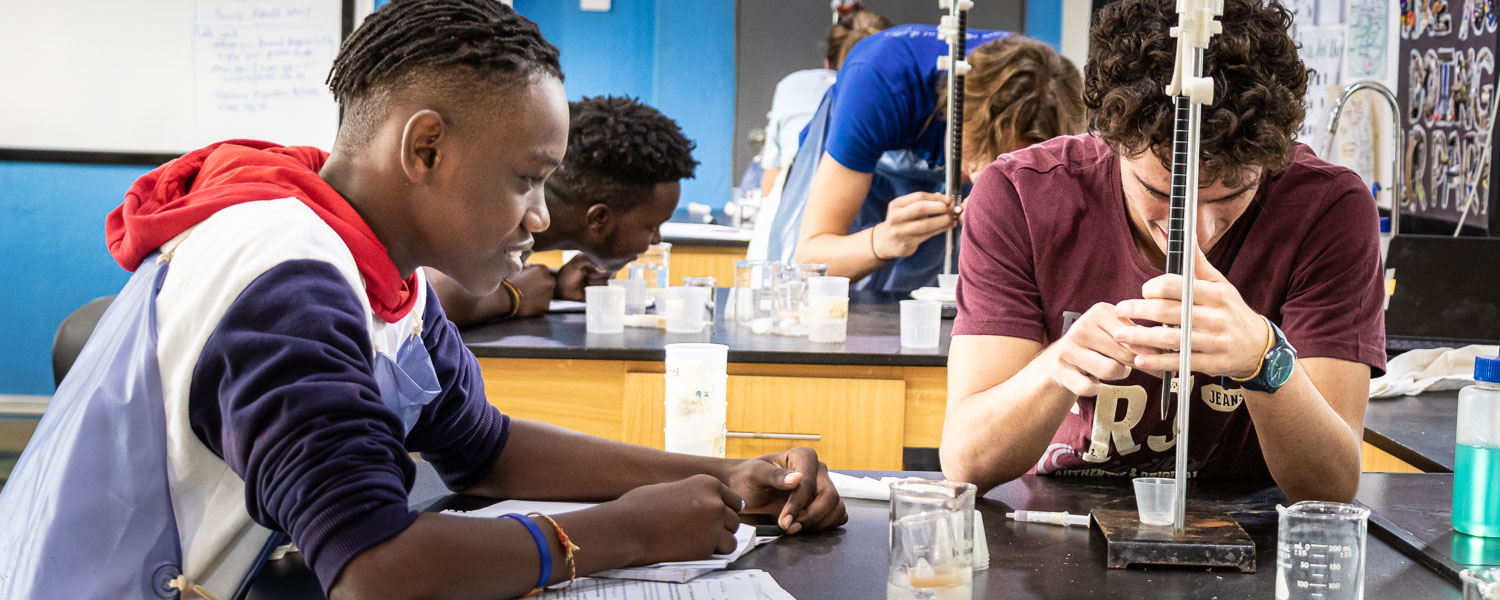 Vision Statement:
As faithful teachers and learners, we seek to glorify the triune God, the creator and redeemer of the universe, and the author of all Truth, by infusing our learning with opportunities to discover, explore, and apply the intimate relationship which exists between our faith, our academic subjects, and the rest of our lives.
Rationale:
At Rosslyn we believe that we are called to be faithful stewards of all that God has given us, including our intellect. We see a well-rounded, liberal arts education as a natural expression and extension of our Christian faith. We believe that all truth is God's truth, whether it be found in the special revelation of Scripture, the general revelation of the natural world, or the insights of history's poets, philosophers, sages, and artists. In our intellectual pursuits, we seek to identify, admire, and give thanks for truth wherever it is found, as well as to thoughtfully explore its implications in the subjects we teach. In this way, we hope not only to foster within our academic culture a sense of awe and gratitude for God's creative and redemptive work in the world, but also to encourage our students to join in that work in whatever context they may find themselves.
Practice:
Teachers, administrators and support staff at Rosslyn are active Christians who, in addition to professing the school's core Christian beliefs, also value and appreciate the wide range of Christian and cultural traditions at the school. In this diverse environment, we seek to respect, learn from and share with others. The Christian faith is thereby modeled and taught to all students in a loving and supportive community, providing them with opportunities to see, know, and deepen their faith in the triune God through engagement in their academic pursuits.
Rosslyn's Christian Religious Education (CRE) curriculum is based on the study of Scripture. For its general educational programs, Rosslyn does not use a prescribed or preformatted Christian curriculum. Instead, Rosslyn recruits thoughtful Christian teachers who seek to demonstrate and bear witness to the Christian faith in all of life through their words, actions, and instruction. Teachers are encouraged to explore and articulate the myriad facets of God's truth that underlie, interpenetrate, and inform the subjects they teach.
In addition, Rosslyn believes that faithful learning does not just encompass what we think about (content) but how we think (the character of the thinking process and habits). As a result, throughout our learning community, we aim to develop in ourselves and our students thinking habits that are consistent with Christian character and the pursuit of truth, including intellectual virtues such as courage, curiosity, carefulness, honesty, humility, fair-mindedness, and tenacity.
Finally, due to the wide range of Christian experience and tradition that makes up the Rosslyn community and the many subject areas that modern education engages, specific parts of course curricula may be deemed controversial. Faculty, staff and substitute teachers are trusted to handle such subjects in a professional and age-appropriate manner with wisdom, humility, balance, and sensitivity. Engagement of controversial subjects in the classroom provides not only the opportunity for substantive discussion and debate under the direction of the teacher but also the chance to listen to one another and pursue truth in a fair-minded, humble, and respectful way. It gives students knowledge and literacy to engage similar issues later in life, and it gives the teacher the opportunity to share from a perspective grounded in the school's core values and beliefs.
Co-Curricular Faith Opportunities:
We seek to integrate our Christian faith into our daily schedule and practice in a variety of ways. For example, current practice includes the following. School begins each morning with Christian devotions in the classrooms facilitated by the teacher. Chapel services are planned weekly and are attended by all students, providing a space for corporate worship and Christian teaching, discipleship, spiritual growth and development. This gives opportunity, in large public gatherings, for a diversity of formats to be used in responding to the moving of the Holy Spirit in our midst. The school chaplains assist in maintaining an appropriate balance of such formats based upon the present needs of our students. Spiritual Emphasis Week seeks to foster Christian commitment and growth as students are challenged to examine their faith. Additional opportunities for Christian witness, outreach, and service at Rosslyn include the Cultural Field Studies (CFS) program, school-wide service days, clubs, and extend to extra-curriculars like athletics and the performing arts.
Furthermore, student relationships with peers and teachers can provide unique opportunities for faith development. Rosslyn Academy directs, encourages and facilitates many voluntary student groups and events that are designed for youth fellowship, Christian teaching, and the opportunity to respond to God's call. Through these programs, Christian students are challenged to renew and strengthen their faith, while those who have yet to do so are given an opportunity to welcome Christ into their lives.
We desire Rosslyn Academy to be a loving and caring community that provides for students the freedom to dialogue, debate, and learn about the Christian faith. Our hope is that every student might receive the gift of salvation and commit himself/herself to serving God and sharing Christ throughout the world.